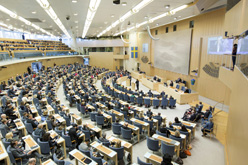 The Swedish parliament decided on March 25 that a licensing system shall be implemented on the gambling market. The parliament requests that the government during this year gives directives for an investigation on how such a system should be designed.
Actually, this is no news. For several years there has been a political majority for a re-regulation of the gambling market, including a licensing system for parts of it. However, there is now a formal political decision on the issue.
It will take several years for a new gambling regulation to be implemented. First the government needs to draw up the directives for the official inquiry, then the inquiry will take some time to make, and then remains to make all the necessary legal and regulatory changes. My guess is that this process will take three to four years.
The parliament's decision is available here (in Swedish).
This recent report from an expert group at the Ministry of Finance gives hints about how a future licensing system might be shaped (in Swedish, with an English summary).